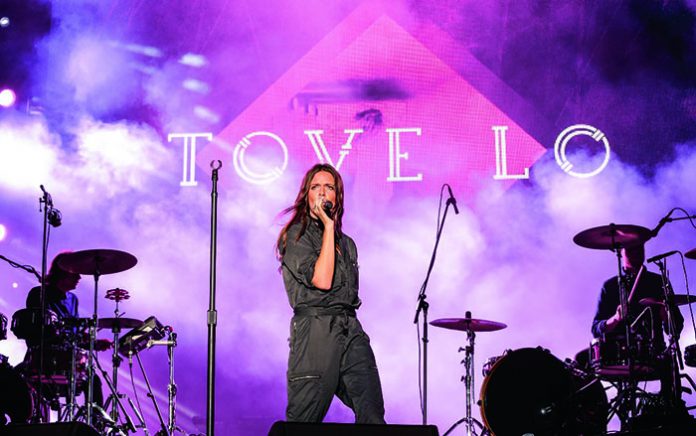 The year 2015 saw After-Race Concert goers treated to four nights of entertainment, with an all-Arabic night on the Thursday, Latin crooner Enrique Iglesias on Friday, festival favourites Florence + The Machine on Saturday, and Britpop legends Blur, who closed the celebrations on Sunday.
Produced by government-backed promoter Flash Entertainment, the four consecutive shows each required a distinct look and feel, and this meant that the stage had to be reset each night to accommodate the incoming artists. The After-Race Concerts were realised under the watchful eye of Flash's Lee Charteris, along with the consultation of Lighting Designer Steve Shipman.
Charteris explained: "The core lighting, audio and video package doesn't really change over the course of the event, though the bands are allowed their own floor packages, backline, risers, and monitors, as is their want. We make minor changes but, because of the nature of back-to-back shows, we are more or less working under festival conditions. We have a lot of international bands and, as the F1 is so big, we have to come up with a big show design. This year I think we've come up with an absolute corker!"
Although the du Arena circa 2015 seems perfectly suited to hosting such a high profile event as Yasalam, the infrastructure now in place is there thanks to a concerted effort from Flash to develop what was essentially an open field.
Production Manager for Flash, Haidar Shukry, explained: "The place was completely different when I first came 10 years ago – we didn't even have a perimeter fence! It has become like my baby as we've built it up from basically nothing. We've built the VIP tree houses and suites, and paved over a lot of the gravel that was here. All of the cabins and toilets are here and plugged in all of the time now. It's become a proper branded arena, and now there's a three metre fence that you can't climb – or at least we'll have time to catch you if you do!"
MORE IS MORE
A major aspect of the show design that became apparent as soon as TPMEA entered du Arena was the colossal set of LED wings, supplied by Creative Technology. These wings comprised around 300 sq metres of high resolution (six mm) Panasonic DA6-RZ panels split into three screens per side, with the spaces in between filled by 160 sq metres of lower resolution (20mm) Diamond P20 panels. The main video control system supplied by CT was operated using a Christie Spyder X20 video processor with the requisite software.
"I was at a trade show in 2015 where low and high res screens were mixed together, with lights placed behind the low res that could shine through at the right moment," Charteris continued. "At the After-Race Concerts we have these huge LED wings either side of the stage that are a combination of three sets of high res and two sets of low res. They make a giant IMAG and because of the programming we can break them into two sets of five."
This meant that each screen could be used individually or as one giant IMAG, showing a mixture of camera shots, unique video content or anything in between. At specific points during a set, the low res screen could also be blared out by the wall of molefays rigged behind each one, and framed by the Clay Paky Sharpys all the way along the top.
Shukry added: "I don't think many productions have put up over 450 sq metres of screen in one go like we have here. It took us a while to make it happen because it weighs a lot and took a lot of calculation. There was a great deal of back and forth with StageCo in Germany to make sure everyone was happy. To see it up is a huge weight off my shoulders and it looks fabulous."
Shipman controlled the content of the LED wings on using an MA Lighting grandMA VPU media server where necessary, while the headline acts tended to bring their own.
The wings were, quite understandably, a challenge for the team at CT for a number of distinct reasons. Senior Video Engineer Richard Bearpark explained: "The big issue with such a huge screens and various different levels of content is how to scale everything. With the screens running different resolutions simultaneously we have to stretch some of the content whilst others are pixel mapped and Spyder control handles this nicely."
CT's Alem Dzinc was responsible for the programming and operation of the Spyder during the main show, giving all the artists the desired positioning of content to any of the screens required.
Project Manager James Crump added: "Luckily, the Panasonic six mm is a light weight piece of kit. This is always an issue when hanging screens outdoors but we've kept it as light as we can. The 20mm screens are less than a tonne each, whereas the high res are 2.4 tonnes each which, for a screen of that size, is very manageable."
A final concern that the team encountered was the occasional gust of wind at stage right, which wasn't helped by the sheer surface area of the newly-rigged six mm wings. Crump laughed: "The way the venue roof is shaped forms sort of a wind tunnel, and this caused the screen itself act like a giant LED sail! That said, we had additional safety practises in place and a great product – two key factors when hanging screens at any outdoor venue – so we weren't really worried."
The team of eight worked closely with Flash and PRG Gearhouse, which supplied an additional 18-metre by eight metre upstage screen made of ROE MC-7 LED. The screen was only used by Enrique Iglesias and then dismantled overnight to make room for Florence + The Machine's floor package and Blur's backdrop.
Head of Lighting, PRG Gearhouse's Damien Jackson, said: "The way the screens are set up, there are different ways to switch between them. For example, the three high res can take the same image or three different ones, and content can be used on the low res."
As well as the upstage screen, PRG Gearhouse supplied lighting kit, a five camera PPU system and switching, as well as three lighting technicians, four video crew, four follow spot operators, and four cameramen.
Jackson continued: "There's a lot of lighting fixtures going on as well as the video but Steve's design with a permanent flown rig and changing floor packages is something we were very supportive of."
This meant that the flown rig could stay in place throughout the four-day run, with any necessary changes to the floor lighting being made overnight.
The main stage lighting consisted of 36 Martin by Harman MAC Viper Profiles, 36 PRG Best Boy HP Spots, 24 Clay Paky Sharpys, 13 Martin Professional Atomic 3000 Strobes, eight 8-Lite molefays, and 20 P64 Chrome PARcans. This was accentuated by four ReelFX DF-50 hazers, two Martin by Harman JEM ZR44 smoke machines and four Martin by Harman JEM AF2 fans, with four STRONG 3K Gladiator III follow spots rigged at FOH.
Enrique Iglesias' crew requested a floor package made up of 24 Martin MAC 301 LEDs, 14 additional MAC Viper Profiles, and 12 Clay Paky A.leda B-EYE K20's, while Florence + The Machine specified 35 Martin Professional MAC Viper AIRFXs, 22 TMB Solaris Flares, 36 extra P64 Chrome PARcans, 12 ETC Source Four lantern heads, 12 ETC Source Four lens tubes, and an Avolites 48-way ART 2000 dimmer rack.
Blur's additional kit was relatively modest, to compliment their backdrop, and consisted of six Philips Vari-Lite 3000 spots, 14 Clay Paky Sharpys, eight Clay Paky A.leda B-EYE K20's and four Robe ROBIN 800 LED washes. Unusual Rigging & Engineering assisted in the rigging at du Arena, along with PRG Gearhouse's own lighting riggers, using an assortment of Lodestar hoists.
FOUR OF A KIND
Given the fact that the After-Race Concerts are only open to F1 ticket-holders (most of whom could be the same people night after night), Flash had to ensure that each night retained its own identity.
Although the initial concepts came from Charteris, he explained that Shipman was the one who made his vision a reality: "Steve is a really clever guy. We take elements of all three touring riders, fixtures-wise, incorporate into main rig and then extend them out, so it is not too daunting for LDs when they turn up.
"Video in general is an easy sell to bands as it makes them look big and the control is relatively simple. Enrique was the only one that used the back screen as Florence had a big floor package and Blur brought their own backdrop."
Another of freelancer Shipman's duties was to assist all the incoming LDs and light those artists that didn't have their own. Charteris added: "He pulls together all the lighting designs from all these acts and puts a package together that satisfies all of them, which is no mean feat! He then designs a show that works for everybody and has done that successfully for six of the seven years that we've been here."
Shipman had no consultation with the artists until after the design was completed, though he was glad to report that this year's acts had been receptive to the rig on offer. He said: "We, through PRG Gearhouse, supply the floor packages that the artists specify as a bit of a sweetener. None of them have been too much of a challenge for us, and we've done much bigger in the past. As soon as you have to start flying extras it becomes time-consuming but setting up kit on the floor is relatively easy."
TRIED AND TESTED
Delta Sound provided a "tremendous amount" of PA to be hung from the main stage, according to Senior Engineer Rob Eatock, as well as secondary hangs in the wings and delays out in the field.
There were four main hangs at du Arena, two of which comprised 12 L-Acoustics K1's with four K2's hung underneath, and an additional 12 K1 per side for outfill – a total of 48 K1 and eight K2 on the main stage alone.
Flown behind the main left and right K1 hangs were 12 K1 subs (six per side), while frontfill consisted of eight stacks of L-Acoustics KARA (four stacks of two, then four single stacks in the middle). Subwoofers were arranged in an arc configuration, made up of 32 L-Acoustics SB28's tipped on end with a five metre gap in the centre. A central delay tower was rigged with 12 K2 per side to provide even coverage for the potentially huge crowd.
Eatock said: "I definitely feel that having all the same speakers across the front makes for a more integrated system. You can walk across the field and it sounds exactly the same – which is why this is the go-to rig for most outdoor shows."
The entire PA system was driven using L-Acoustics LA8 amplifiers and controlled at FOH via Network Manager. While some bands brought their own consoles, the local monitor desk used was an Avid Profile. Managing all the desks was a DiGiCo SD11 with a D-Rack on stage.
A selection of microphones were used during the event, including Shure SM58's and 57's, Sennheiser 3732's with 5200 heads, and Shure wireless UR2's. In-ear monitoring was taken care of by Sennheiser 2050's and Shure PSM1000 systems. All audio rigging was taken care of using a selection of one and two tonne Liftket motors.
Eatock added: "The F1 always poses challenges with it being four days back-to-back. The Arabic night was the most demanding because there was so much going on. Luckily, we are very familiar with the venue and having all the same speakers across the front has resulted in a more integrated system than we've had in previous years."
While Florence + The Machine and Blur brought in some pieces of their usual touring setup, Delta Sound provided the rest, as well as the whole audio rider for Enrique Iglesias and the Arabic night.
"It's very satisfying for me when it all goes well – it's like a game – there's so much kit on site and it's such a case of juggling it efficiently day-to-day."
TAKING THE STRAIN
All Event Services took care of "everything that wasn't plugged in" at du Arena, according to JJ Trichardt, and this included the main stage, scaffolding requirements such as the FOH and delay structures, bespoke stage wing extensions to support the LED and flown PA, and all fencing and barriers.
It only took AES a day to install the wing extension, though the necessary static calculations had to be checked due to the sheer scale of the wingspan. The weight of the screens and PA thus had no impact on stage itself, as they were rigged on a completely independent structure.
In terms of constructing the central delay tower and FOH structure, AES had to strike a balance between satisfying the concerts' audio requirements and maintaining crowd sight lines.
Trichardt said: "The single delay tower is everyone's friend as it provides unrestricted view, meaning the promoter doesn't have any 'dead view space', the production feels safe, and they are faster with load in and out."
As with many of the other suppliers on site, AES benefitted from a strong relationship with the promoter and a wealth of experience working at du Arena.
Trichardt continued: "I have been providing services at this venue since 2009 and Flash makes it easy for us every time we visit the arena. The UAE market is a very reactive work environment and in order to survive you need to be able to take on these requests through smooth ignition and productive execution."
Resuming its relationship with Flash, eclipse Staging Services supplied 47 varying specifications of power distribution at du Arena, as well as over 1,000-metres of cabling.
Neal Large, Senior Electrician at eclipse Staging Services, said: "As part of our on-going contract with Flash, eclipse ran all of the power distribution on site for the events and also conducted regular safety checks on the equipment, including annual servicing and PAT testing before and after each and every event to ensure all safety precautions are taken."
As one of the special effects experts with the eclipse Group, Stage FX, supplied kit for Enrique Iglesias and Blur such as confetti and Co2 blasts using a variety of its Magic FX stock. Stage FX's services were used intermittently, and this contributed for a straightforward run for the crew.
Rory Inker, Senior Special Effects Technician for Stage FX, added: "Completing a four-day event in some ways is a smoother process, as load-in and load-out do not change and it is just a case of re-loading the equipment with the consumables such as confetti, streamers or Co2."
SAFTEY FIRST
UK-based health and safety specialists The Event Safety Shop (TESS) had staff at both du Arena and the Abu Dhabi Corniche for Beats on the Beach to ensure that the festivities continued incident-free. The majority of the company's expertise was centred on crowd management – particularly a safe entrance and exit.
TESS Director Simon James said: "The biggest issue is that we don't know how many people to expect. We know how many go to the race but there's no way of knowing how many people will actually show up at du Arena. You build up a picture over the years of what people will do, but the reality with F1 concerts is that people will come and go."
Nigel Beaton, Managing Director of Gulf Crewing Company and Stage Manager for Flash, oversaw the load in and load out at Yasalam, as well as running the main stage for the duration of the event.
He told TPMEA: "A major challenge here for a touring crew that isn't used to the heat is to work at the same pace as you do in an air-conditioned arena. Even a slight dip in productivity has implications throughout the day as we work to strict deadlines. The UAE is also very conscious of peoples' safety so we have to adhere to the security sweeps that take place on site at certain times. We all have to stop work and leave the stage and that eats into our schedule as well."
Gulf Crewing Company was established in 2008 and has gone from strength to strength, having worked closely with Flash since its inception.
Beaton continued: "Every Yasalam is a learning curve, particularly since we added the Arabic Night three years ago. I don't know of any other F1 events that cater to the local community like that. The Arabic bands have their own timescale and it's always an additional challenge to fit everything in. That said, they always go down really well with the locals and there are some massive acts out here."
As well as dealing with his own day-to-day duties, Beaton was glued to his radio to help ensure that everything on or around his stage ran as smoothly as possible.
He said: "I think by now we can match anywhere in the world for any show. Production managers speak to each other and we are gaining a good reputation – a deserved reputation – for putting on first class events. This is no accident, as we've invested a lot, whether that is in gear or training."
Despite managing the stage for an event as prestigious as Yasalam, Beaton's humility was evident – indicative of the camaraderie that I encountered during the majority of my conversations at du Arena. The term 'melting-pot' is a cliché, but ideal to describe the multinational events industry that has emerged in the region, where all those involved are quick to express their pride.
Beaton said: "We are all really lucky – we get paid for our hobbies. We've all fallen into this through a love of music and there's a group of us out here who all work really hard to put on the best show we possibly can."
NO TICKET? NO PROBLEM
While the After-Race Concerts were for F1 ticket-holders only, Flash also ran the Beats On The Beach shows at Abu Dhabi Corniche, featuring free performances from Emirati, Arabic, Bollywood, and Filipino, local and regional talent, alongside an eclectic mix of international artists such as J. Cole, Tove Lo and the Faithless.
PRG Gearhouse covered a great deal of the production on site, including lighting, audio and video.
Despite the relatively modest stage size, Beats On The Beach's lighting rig was a varied one, with Philips Vari-Lite VL3000 Spots, VL3500 Washes, Clay Paky Mythos, Martin by Harman Atomic 3000 Strobes, Showtec Sunstrip Active DMXs, and Lycian 2193x followspots. This was controlled by a Chamsys MQ100 console with Playback Wing and Magic HD.
The company provided an L-Acoustics K2 PA system, with SB28 subwoofers and KARA as frontfill, as well as LA8 and LA48 amplifier racks using XTA management. This was controlled by a rider-driven combination of Avid and Midas gear across FOH and monitors.
PRG Gearhouse also provided a four-metre by 6.5-metre Martin EC10 IMAG screen at each side of the stage, as well as a 10-metre by six-metre Martin EC20 upstage video wall. The screens housed a mixture of artist content and camera shots, the latter of which was captured by a three-camera PPU system.
Laser Grafix, part of the eclipse group, supplied a large amount of high power lasers to the Faithless concert at Beats on the Beach. Arran Hopkins, General Manager at Laser Grafix, commented: "The only thing that differs on a four-day event is the amount of equipment used and the show itself. In which case, due to our extent of stock here and in the UK we have the ability to supply a large amount of lasers and conceal what is not required for the individual shows."
As at du Arena, Gulf Crewing Company provided stage and site crew, managed by Beaton's brother, Stephen.
Again, AES provided the main stage, scaffolding, fencing and barriers for Beats On The Beach, as well as constricting the raised hospitality platforms, while Flow provided all of the infrastructure power – the company's inaugural live gig on this scale.
Photos: Flash Entertainment