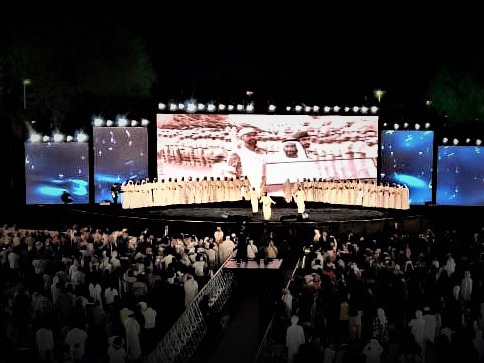 The municipality city of Al Ain celebrated the 47th UAE National Day with an impressive visual showcase.
From the main stage to the lake area, the festive ambience was felt all through-out with JBL Vertec VT 4880A Full-size Arrayable Dual 18" subwoofer and Yamaha DXS15 15" Subwoofer. SLS Production's premium communication system proved its worth again as Clearcomm Wired and Wireless Comms were used for the communication system.
Using Clay Paky and Grand MA 3 consoles, the event displayed the inspiring vibrance of the celebration an inspiring story of Sheikh Zayed's life. "This is Zayed. This is the UAE" was the theme of the national day. The 180 SqM 8.9mm and two 42 SqM 8.9mm LED Screens gave an impressive graphic presentation to its audience.
In the lake area, a water screen projected images of the patriotic history of the UAE and Zayed, making the event one of the notable contributions made in celebration of the UAE National Day.