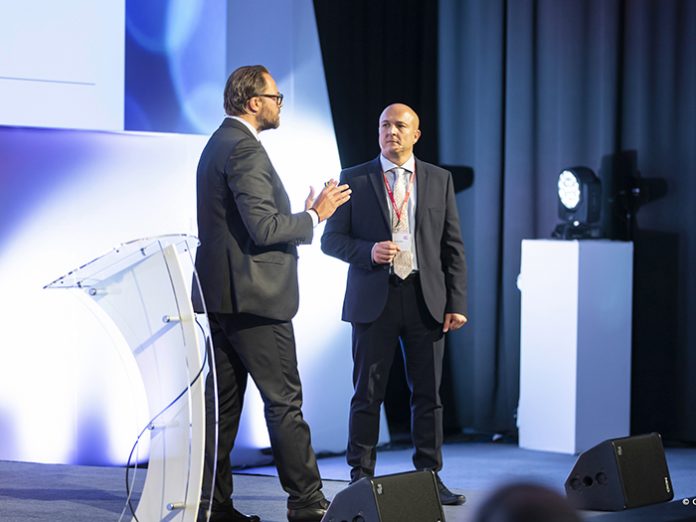 Over 200 distinguished guests from across EMEA gathered at the Intercontinental Hotel in Berlin on 11-13 September 2018 for large-scale, multipart, event for Canon Europe.
Protec European Events, who were recently awarded AV Production, Staging & Rental Company of the Year at the AV Awards 2018, have an ongoing relationship with Canon and were trusted to provide a full-service package again this year.
VIP speakers included Michele Tuscano, Director of Large Format Printing & Partner Channel, Canon Europe were in attendance for what was an important event in the Canon calendar. Protec were on hand to plan out every detail alongside its client using trusted brands and their highly skilled staff for complete reliability.
This event had four distinct parts, a conference, a product reveal, an exhibition including demonstrations of the new Canon large format printers followed by an evening gala dinner and networking event. The client wanted a visually engaging conference element but the look and feel of the exhibition area were essential to draw in and engage the Canon resellers who made up most of the guests.
Project Manager Wayne Jackson was on hand to talk us through the specifics of how Protec delivered this successful event for the second year running.
"We hit the ground running for this show with Protec building the stage and set, providing lighting, audio and video on 2 screens – one of which had a kabuki drop projection, simultaneous translation, a data and control kit, exhibition backdrops and stand furniture as well as power distribution."
Due to the venue being booked for another event, it left a very tight window to get everything built and ready. Despite the multiple elements involved, the Protec team managed to load in and build the main elements in just one evening working until 3am to build the stage and set to allow for a quick build of the other elements. Mr Jackson and his team impressively completed the build the next day in time for rehearsals at 4pm.
"It was certainly a challenge, but with a committed team all working together and the benefit of providing the full package ourselves – not waiting on other suppliers, we were able to ensure everything was ready on time for rehearsal and everybody stayed on site until the client and we ourselves were happy things were perfect."
The scenic and set department, run by James Bramwell, needed to prepare and install 162 panels of various sizes, 19 different banner wraps, a 14m x 3m seamless projection screen, another 5m x 2.8m seamless projection screen, 2 camera risers, 2 crew hides, and 11 custom pods for exhibition stands.
In fact, Protec didn't just provide the usual full package one would expect – it also provided delegate name badges and hand out packs. Protec handled the full graphic design of all the elements including menu cards, brochures and bags for the client. They also were trusted with the design of the exhibition layout, gallery areas and the coloured graphics on all the backdrops.
Ben Waters, head of audio, talked us through the audio solutions chosen and their placement.
"For this event, we used 18 Nexo Geo m620 array boxes, supported by 4 LS18 subs and PS10 as fills. The subs were configured as a central mono cluster, which was key for two reasons, firstly, even coverage avoiding a power allay as with left-right subs but also for saving space behind the set. We had six hangs of the array, due to height constraints mainly.
"Everything was run over Dante, through a Cisco network, allowing multiple locations for Rio boxes and with redundancy inputs for outputs to the amps. FoH was a Yamaha QL using Dan Dugan and RF controlled via Sennheiser Wireless System Manager and Qlab for audio stings. All speakers wore headset microphones that were discreet and allowed flexibility to walk around the show area near speakers without causing feedback during the session."
When asked about any challenges from an audio point of view, Mr Waters explained how part of the show required some extra consideration.
"One particular difficulty was mid-session when everyone turned around to watch a lengthy demonstration from the rear of the hall. The kabuki drop opened up a new gallery and exhibition area. To overcome this we added extra speaker hangs facing from back to front. Obviously, being 75 meters away from the stage also causes radio difficulties which needed careful RF co-ordination and managing key line of sight to receiver paddles."
Head of the video department, Sean Godefroy, ran through the video solutions he chose in planning this show.
"We chose 3 Christie 14K HD M-series projectors due to their compact but powerful design and the weight restrictions we had to operate within. They also were a good fit for our client's budget. We chose the Christie Spyder X20 video processor to manage the pixel space that was required for the event. The projection was done on two different screens one being 14mx3m with a pixel count of 5040 and a blend region of 360 pixels.
"The second screen was 5mx2.8m with a resolution of 1920×1080.  This was used in conjunction with the Kabuki drop. We used 2 high spec laptops with dual output cards to run a PPT at 5040×1080; these laptops were run as main and backup. The playback was provided by Coolux which handled a full-screen opening VT."
Mr Godefroy explained how he reacted too late changes and how he prepared as much as possible in advance to ensure the client's expectations were exceeded.
"Some changes were made to the screen spec beforehand which meant there was quite a knock on effect of changing content aspect ratio, extra projection etc.  The use of Spyder meant that we had the correct system in place to manage the end client's expectation of being able to react to any change. It is important we are adaptive as inevitably things can change and this software allows us to react quickly. Alongside that, we used Master Cue so the client felt they were in control of their presentations."
The lighting department used Avolites power cube for LX power and control, ETC source 4 fresnels for stage wash effects, ETC source 4 profiles for lectern spots, 16 Claypaky A.Leda B EYE K10's for set backlighting and room effects, ETC Source 4 Parnel zoom wash lights for the gallery lighting, TR LED Color Blast kits for set up-lighting and sim trans wall lighting, and 20 Daylight studio Par ML's for exhibition lighting. Lighting was designed by Protec and operated by Scott Bell using Avolites Tiger Touch.
Mr Jackson applauded his team on what was a very successful event. "The sound quality was perfect, the data projection through Spyder onto the 14m x 3m IMA screen was stunning and gained lots of comments from the client and from delegates. Everyone really showed incredible commitment and teamwork in order to overcome challenges and find solutions."
"Protec European Events provided excellent support in Berlin and offered terrific pre-event planning advice and support. We have had very positive comments from the attendees, and also our senior leadership team who attended. The screen looked fantastic, the kabuki drop and the exhibition area were a great success. The crew did a wonderful job and we really appreciated how flexible they were onsite with changes. Thank you very much!" Subbaiah Kuttanad, Marketing Projects Lead / Brand Identity & Experiential Projects, Canon Europe, exclaimed.
"I'd like to thank Wayne and the Protec team for their amazing patience, professionalism, and the hard work you put in – we received so many good comments from all our partners which wouldn't have been possible if you hadn't done such an amazing job. Thanks especially for the helpful advice and smiles during the more stressful moments," commented Andriani Lada, Speaker and Product Manager, Canon Europe.
With the final words on the event, Mr Jackson lets us know he's already planning for next year.
"We have gone from providing the AV element at last year's event in Rome to handling the whole event including delegate registration, creative design, venue find and full AV production. We are now looking at venues all over Europe to stage next year's event. We'd like to thank our clients for putting their faith in Protec once again, we look forward to growing this relationship even more."