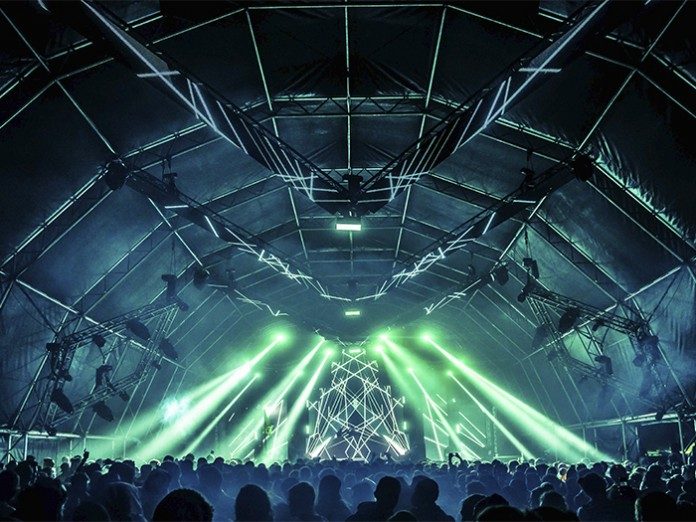 Lighting Designers Willie Botha and Matthew Meyer employed an array of Philips Showline SL NITRO 510 LED for the annual Rocking The Daisies festival, one of South Africa's biggest music events.
The 12 SL NITRO 510 strobes, supplied by event producer and supplier Kilowatt AV, were rigged at the Electronic Dome EDM stage. "Our concept was to immerse the crowd in a high-octane visual experience," explained Botha. "We wanted it to feel as if the action started on the stage and then stretched out over and around the crowd."
Meyer and Botha therefore positioned the strobes behind the DJ booth, up into the stage's domed roof and over the audience. They worked alongside more than a hundred LED panels that surrounded the stage and dance floor.
"The immense output from these little beasts meant they had no problem keeping up with the rest of the lighting or even the LED screens," continued Botha. "Their versatility combined with the positioning meant that we could either submerse the crowd in a strobe effect or use them as mind-blowing blinders from the front."
The SL NITRO 510's tightly packed array of more than 1300 high power LEDs ensures maximum output of more than 68,000 lumens. Its six zones of control allow ultimate flexibility while unique built-in chases aid in creativity and simplicity.
"In single flash mode the chase possibilities are endless, while using the zone mapping at lower intensities made for some interesting eye candy effects," said Botha. "Not to mention, Rocking the Daisies is well known for being a green festival so the pressure is always on to keep the power consumption to a bare minimum. When compared to traditional strobe and blinder fixtures the SL NITRO 510 draws barely any power and this definitely counted in its favour."