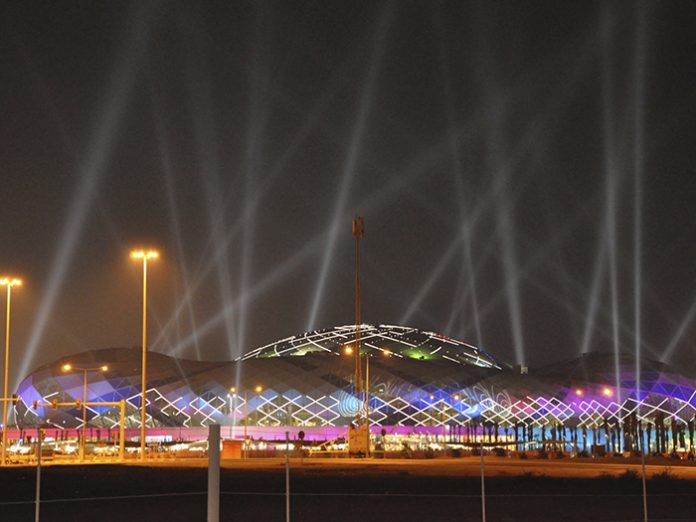 As it prepares to become the first country in the Middle East to host the football World Cup in 2022, Qatar is investing in state-of-the-art infrastructure and technologies its stadiums.
This includes the implementation of world class wireless microphone systems from Sennheiser at the Lusail Iconic Stadium, which played a vital role in enabling handball fans across the world enjoy the televised broadcasts of live matches. This stadium will be used for boxing, handball and basketball championships and also for live in concerts in the future.
Sennheiser, which also supplied microphones for the football stadiums in Brazil, highlighted the importance of its audio solutions. "With several hundred million TV viewers watching live, there is no room for error. Thrilling commentaries, pitch-side reports, the roar of the audience and sounds of all the on-field action are essential parts of the viewing experience. Poor audio quality or technical difficulties can hamper this and undermine the tremendous effort that goes into hosting such events," said Mig Cardamone, Director of Sales and Marketing at Sennheiser Middle East.
"The Qatar Olympic Committee realises that high-quality images and high-quality sound go hand in hand. This is reflected in their selection and usage of our most advanced wireless microphone systems."
A total of 16 channels of Sennheiser's wireless microphone and receiver systems from the flagship Digital 9000 range have been used as well the EW 300-IEM Series in-ear monitors. The EM 9046 SU, the multichannel audio receiver and heart of the system, is capable of delivering uncompressed digital audio transmission while maximising spectral efficiency and transmission safety. A notable feature of the receiver system is that the receiver modules cover the UHF range from 470 to 798 MHz, incorporating up to eight receiving channels in the system units housing, making the receiver a future-proof investment.
The SKM-9000 handheld transmitters will be used with an MMK-965 true condensor capsule. It has a switchable pick-up pattern that allows for cardioid or super cardioid characteristics. This will prove vital in this application as these transmitters will not only be used for pitch side reporting but also for announcements within the stadium itself.
Along with the handheld microphones, presenters will be mic'ed up using Sennheiser's EarSet 1 headmics and the SK-9000 transmitter. These will help ensure that presenters are heard over the crowd because of their proximity to the sound source in comparison to a lapel mic. Sennheiser's powerful directional antennas which have been installed in the catwalk, 30 meters above the playing field, provide exceptional range and ensure the clarity and integrity of digital transmission.
Commenting on the implementation, Prem Kumar, Projects Manager at Darwish Holding, the contractor for the audio portion of the deployment said: "The positive impact of the installed system was instantly noticeable. We managed to get it up and running in time for the Men's Handball World Championship and the excellent sound quality was highly praised. This gives us the confidence that it will meet the high expectations set by the Qatar Olympic Committee for the 2022 football tournament."