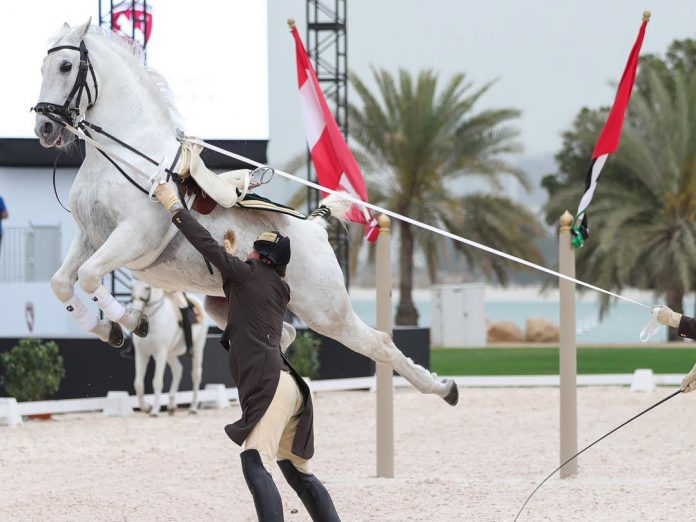 eclipse Staging Services supplied video and lighting to Vienna's eminent Spanish Riding School for its Middle East debut performance. Working with Flash Entertainment, the event took place on the grounds of Kempinski's extravagant Emirates Palace, marking the strength of ties between the two countries in view of their deeply-rooted interest in horsemanship and passion towards horses.
Attending the performance were His Highness Sheikh Mohamed bin Zayed Al Nahyan, Crown Prince of Abu Dhabi and Deputy Supreme Commander of the UAE Armed Forces; Austrian Chancellor, Sebastian Kurz, and CEO of the Spanish Riding School, Sonja Klima, who were joined by a number of the UAE's key dignitaries. Renowned for its breath-taking exhibitions, the school performed on three consecutive nights, much to the pleasure of their enthusiasts.
eclipse provided site lighting and show lighting for the event, as well as LED display solutions. The crew deployed on the show were six lighting and four video crew, plus four followspot operators. The primary show lighting consisted of 180 CLF ARES LED floods, with Clay Paky Sharpys and Alpha Spot HPEs to add a bit of mood to the entrance area.
On the video side, the crew utilised four screen locations of 4.8mm LED, with each measuring 5 by 3 metres of eclipse's new Dicolor MA-480 LED screens, making their first major outing at the event since their acquisition. eclipse's Head of Video, Alex Menor explained: "Our new MA-480 LED products supplement our existing stock and bridge the gap between the 2.6mm and the 9mm screens. We find that these screens can be used to achieve the optimal resolution for outdoor rental."
The technical installation went without a hitch as far as the venue was concerned. "Emirates Palace was quite straightforward, as we were outside, so there weren't any real challenges here," commented Project Manager, Duncan Shortt. He concluded: "There was persistently bad weather most of the week, including very dusty conditions, thunder storms, rain and high winds. There was also a fairly major last-minute revision to the site layout which involved moving a large chunk of LED and lighting, but this was handled smoothly by the team on site."